Christine
Introduced
v1.0
Type
ZENFORM Management
Location
Protector School
Description
Handles various ZENFORM related functions.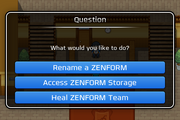 Christine works at the front desk of the Caladan Protector School. She performs useful ZENFORM management features for the player such as renaming, storage access and healing. She possesses a dialect of northwestern Ireland and says "oh aye" and "wee" frequently.
Renaming
Edit
You can rename a ZENFORM any number of times at no cost.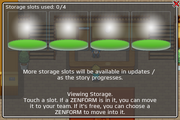 The player can store up to four ZENFORMS currently. The number will increase in time and storage will be accessible via NPCs located throughout the world.
Christine will heal your entire party at no cost.
Christine is based on the real world Keith's fiancée.
Ad blocker interference detected!
Wikia is a free-to-use site that makes money from advertising. We have a modified experience for viewers using ad blockers

Wikia is not accessible if you've made further modifications. Remove the custom ad blocker rule(s) and the page will load as expected.